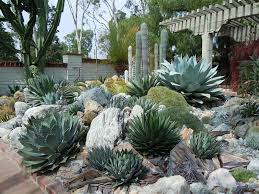 Whether you are preparing your house for sale or you are new in the neighborhood and want to spruce up your front yard, desert friendly landscaping doesn't have to be boring. But, when you live in the desert, you have to be mindful of your use of water for landscaping. Here are some tips to help give your desert dwelling a little curb appeal without drying up a resource:
Using Native Trees.

The Sonoran desert has beautiful plant life that not only looks great but uses water wisely.

These are drought tolerant and provide cooling shade for your home when planted on south or western facing sides of your home.

Some great tree options are:

Palo Verde
Mesquite
Acacia
Ironwood

Using Native or Xeriscape Plants.

By using plants that thrive in our extremely dry conditions or Xeriscape plants that are low-water use, your yard can be both beautiful and environmentally responsible.

Shrubs and ground cover native to the desert can provide varying heights, create border or accents, and provide brilliant pops of color when they bloom.

Some look beautiful when left to grown naturally and others can be pruned to suit your own taste.
o Arizona Yellow Bells
o Baja Fairy Duster
o Brittlebrush
o Cape honeysuckle
o Sage
o Creosote (smells amazing after it rains!)
o Firecracker Bush
o Jojoba
o Bird of Paradise
o Myrtle
o Oleander (careful if you have pets!)
o Morning Glory
o Ice Plant
o Lantana
o Trailing Rosemary
o Saltillo Primrose
Cactus.

Sure, it's the obvious choice but the array of sizes and shapes make using cactus a water-saving way to be creative.

Use tall varieties like saguaro or Mexican fencepost to give height. Use barrel and prickly pear for round elements. Agave plants look like a quintessential desert plant and blooms only once in their lifetime.
Hardscaping.

Using nonliving objects to create interest in your yard saves water and time doing the yard work!

Your yard will most likely have rock as the major ground cover and it comes in a wide variety of colors and sizes.

River rock can be used to create your own dry river beds and give a sense of movement to the yard. Incorporating patio tile, pottery, stone, and sculptures can help define areas and give visual interest.

An old wagon wheel or iron work can lend a cowboy or western flair to your desert home. Installing a decorative iron door or gate creates its own sense of drama.
Lighting.

You want your yard to look great both day and night so use the power of the sun and put in some solar landscaping light!

You can be practical and light walkways or you can go for the drama and highlight beautiful plants in the evenings.

A spotlight on a cactus that stands tall during the day can add drama and interesting shadows at night.
Add some color.

The desert can be dry and boring sometimes, but color draws your eye.

Use plants or pottery to put color in your yard.

Lining a walkway with bright lantana is welcoming; a dramatic orange bird of paradise along a back wall brings dimension; a Texas sage covered in purple flowers feels whimsical in an otherwise tan yard.

Paint your front door a deep red or a sage green or brilliant turquoise to welcome your guests (check for any HOA restrictions before painting!).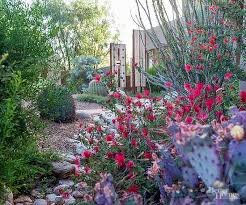 For a complete list of desert friendly plants, trees, cacti, and how to care for them, visit http://www.amwua.org/plants/
http://www.scottsdaleaz.gov/water/xeriscape-garden
Landscape Watering Guide